Das nächste Beta Wochenende in World of Warships steht vor der Tür. Am 24-25 Januar geht es wieder los. Mehr Informationen dazu in wenigen Minuten. Ich muss den Text dazu noch übersetzen.
Hey! You! Yes, you! What are you doing next weekend? Any plans? Cancel them all, because we are setting sail! All leave has been rescinded from Friday 23 January to Sunday 25 January as World of Warships takes over your free time activities. This time around with aircraft carriers, divisions and some iconic high level battleships, cruisers and destroyers on both the American and the Japanese sides.
Wings over the Water!
Following the popular Beta Weekend in December, this time we are adding one major, and we do mean major, feature that is bringing a whole new style of gameplay with the addition of an aircraft carrier class. Ready the decks for the launch of warplane squadrons (fighters, dive bombers and torpedo bombers) that will become a significant force of terror and respect in the skies over the heavy seas.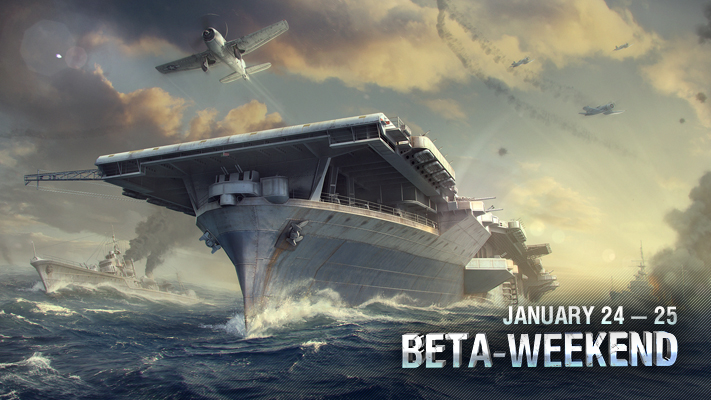 Highlights of the Weekend
Aircraft carriers: Launch up to three types of your warplanes squadrons (fighters, dive bombers and torpedo bombers) and let them dominate the skies over the battlefield.
4 classes at last: Now you can finally witness the rock-paper-scissors dynamics of the game when battleships, cruisers, destroyers and aircraft carriers clash on the high seas.
Create a division: Divisions allow up to three players to join the battle as part of the same team and fight alongside each other.
Expanded roster of ships: Make way for Japanese battleships Yamato and Nagato, the Mogami cruiser and the Shimakaze destroyer. The Americans will respond with the Pensacola cruiser, the Fletcher destroyer and the Essex aircraft carrier.
Reimagined Crew mechanics and modernizations: Captains can now gain skills that influence your ship combat readiness. Modernizations directly improve your ship to suit your gameplay style.
How to get involved in playing?
There are two ways to get your place in the weekend event:
(1) Look out for a SIGN UP button on this portal – this button will take you to a special section where you can register.
or
(2) Get your hands on an invite code that will be distributed through social media and other Wargaming outlets. Keep your eyes peeled as these codes are fairly limited!
For more information or to follow up on any news, keep checking our Facebook and Twitterstreams. We will also have a Team Speak channel set up so you can talk to us or other members of the community directly.
Action Stations!
Quelle: World of Warships